Frooglie
Inspiring communities to join the battle against food waste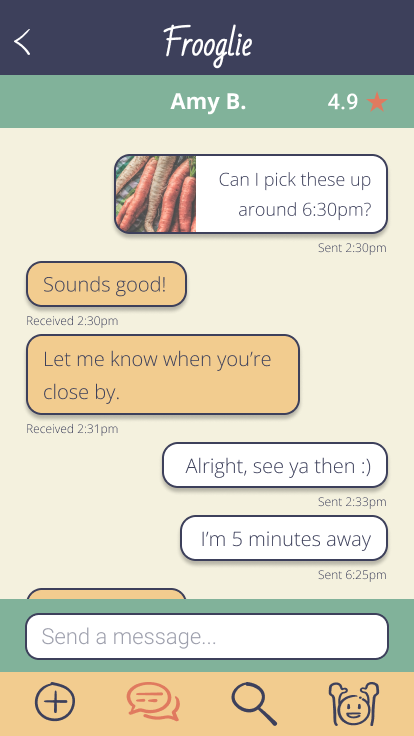 Overview
Frooglie is a sharing hub for unused food, designed to reduce the amount of food waste generated by consumers by connecting them with others in need in their community.
Target: Millennials who cook at home

Duration: 1 week

Team: 4 designers

Role: UX research & interviews, wireframes & prototype design, user testing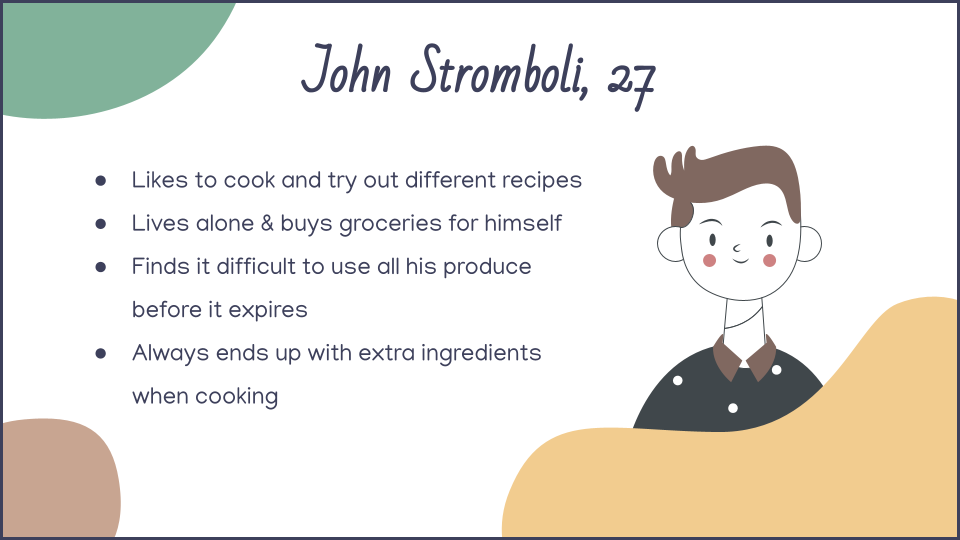 Everyone knows about food waste.
Through our research, we found that 14% of food produced globally is wasted, and 20% of all food waste is produced by the individual consumer.
After creating a persona and interviewing our target audience, we learned that they were all aware of the issue of food waste, but were satisfied with their current habits.
People are willing to help - if it's easy.
Our interviewees said they were willing to help reduce food waste, as long as it didn't take too much effort.
In other words, if we provide the resources, they would love to join the battle against food waste!
Ideation

We conducted market research and found inspiration in trading apps like Kijiji and Bunz. We drew some inspiration from their features and layouts as we created exploratory sketches, which we then refined into solution sketches.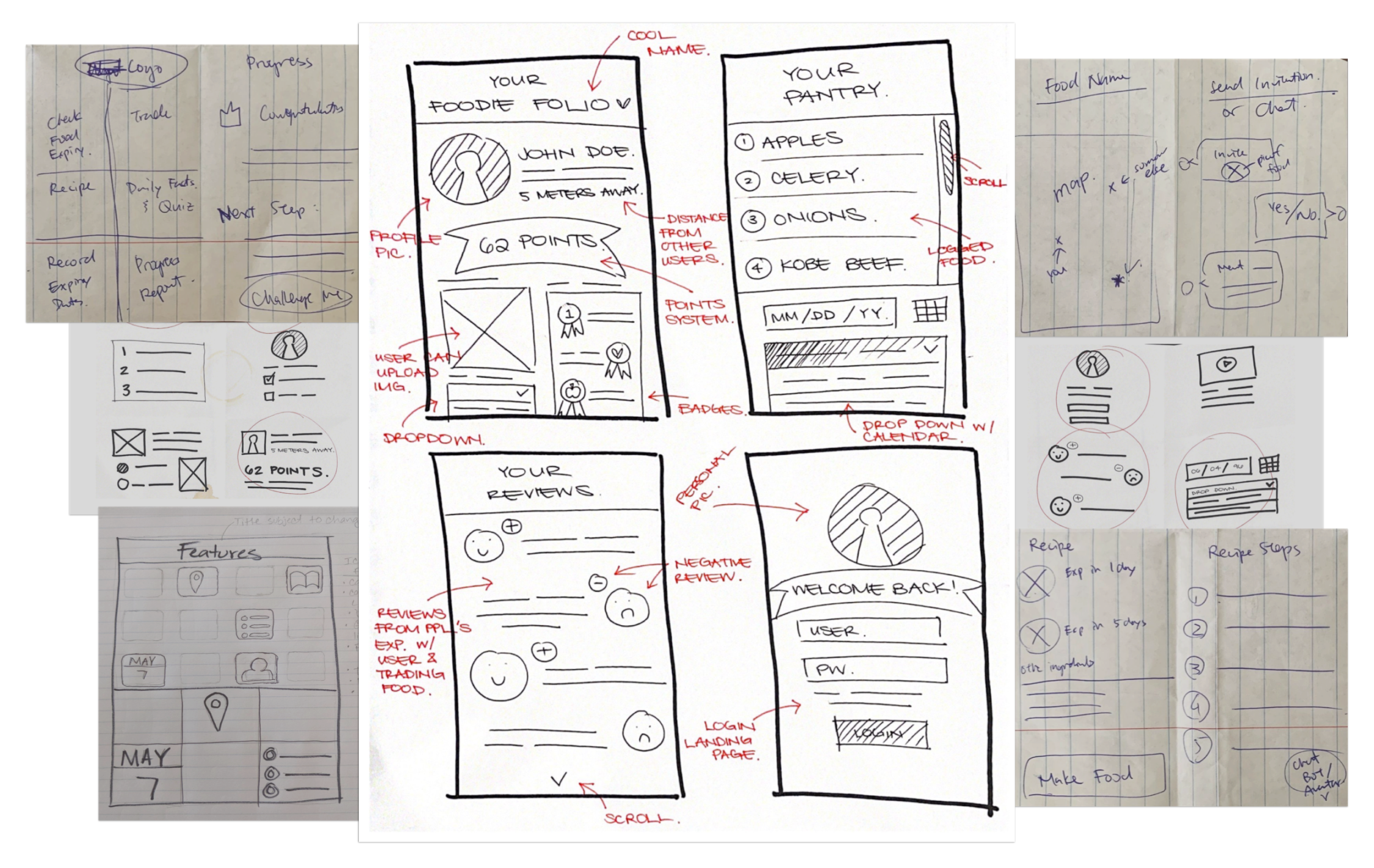 The Solution
We wanted to enable our persona, John, to re-distribute his unused food through a friendly and approachable platform, so that it feels fun and effortless for him. We included features that would help John easily share or pick up soon-to-be expired food within his community, which will reduce the amount of food waste he creates.
Frooglie Features
The app includes a map and list view, so John can quickly search for food near him to pick up if he's missing an ingredient, as well as a messaging and review system to ensure that encounters on the app are reliable, and to keep transactions safe and efficient.
Wireframes
Once we finalized our solution, we began creating the high fidelity wireframes that we would use to create a testable prototype. We selected icons and a colour scheme that would be friendly and approachable, in keeping with the casual tone of the app.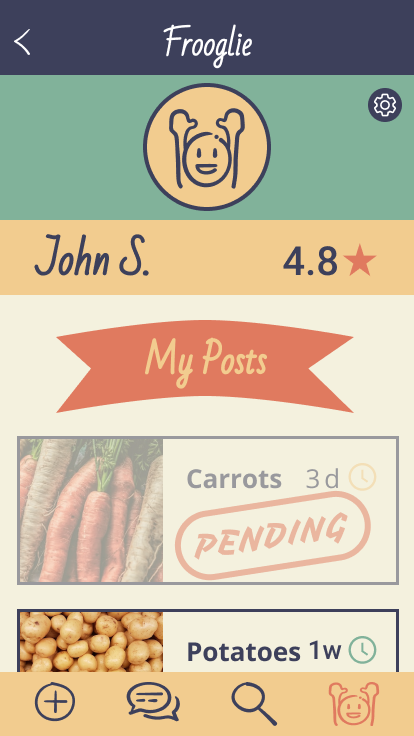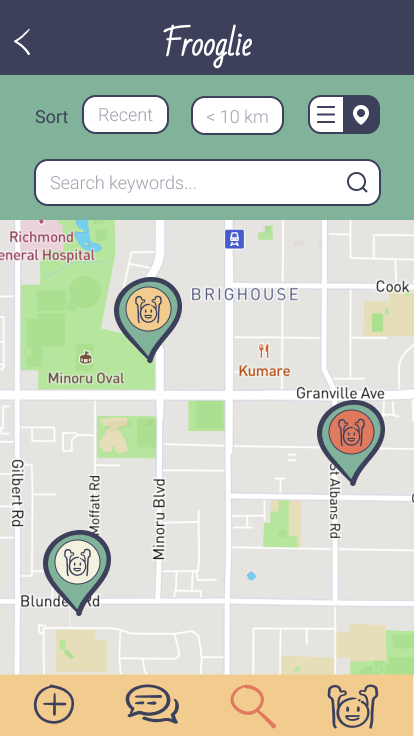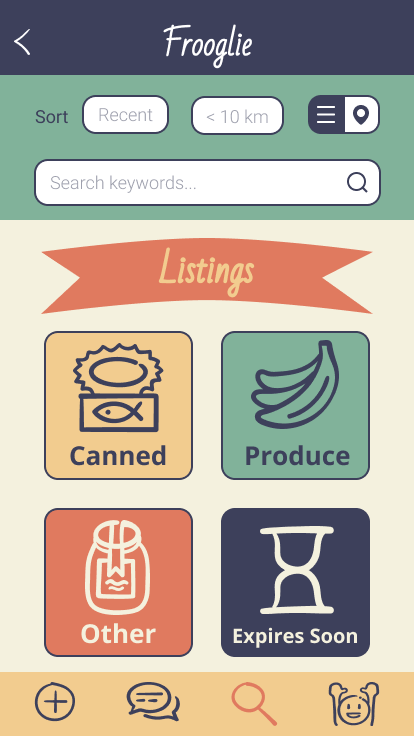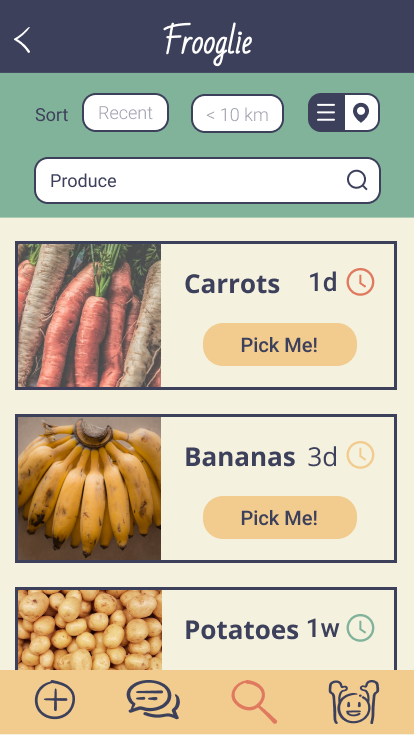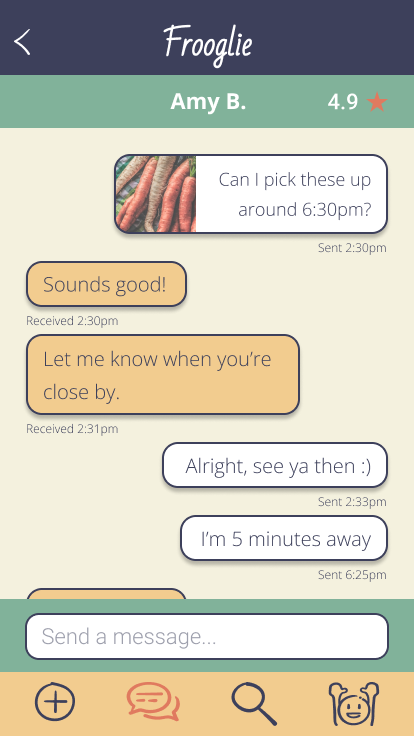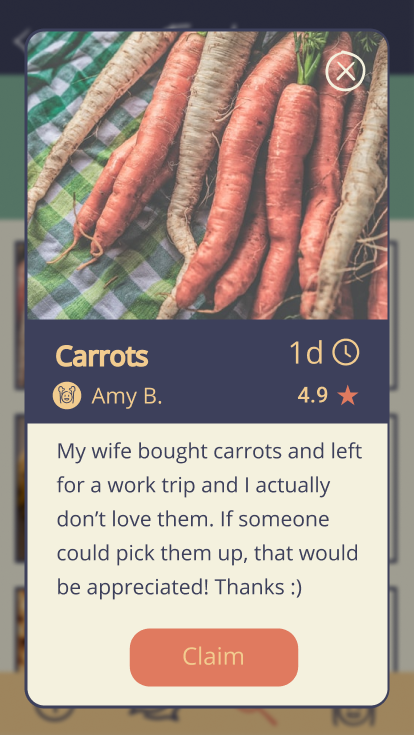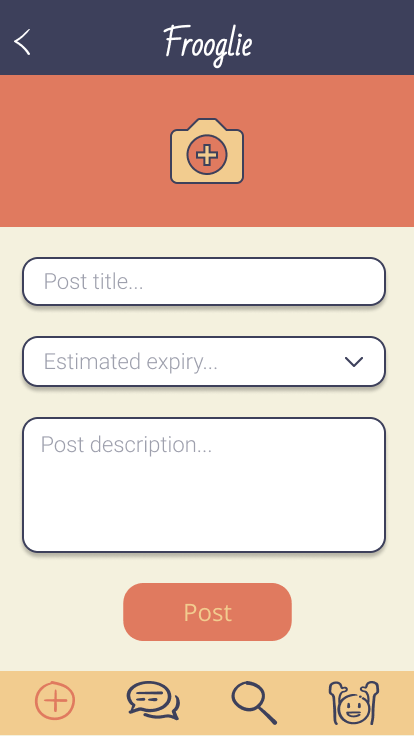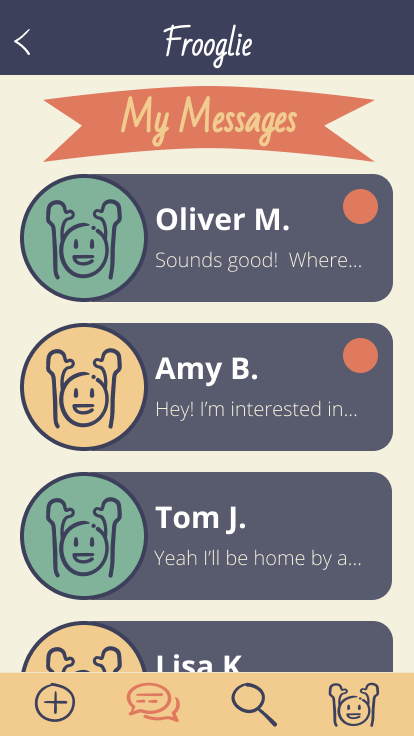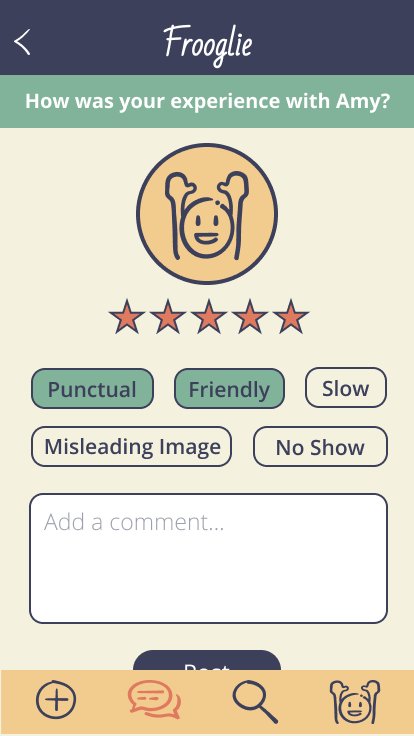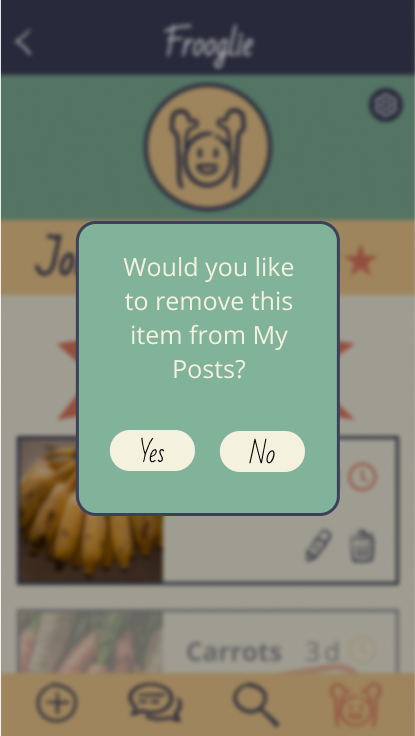 Results
We tested the app with potential users from our target market, and we learned a lot about what our users were excited about, and what we could improve upon.
Accessibility
Testers had some confusion with the menu bar icons, and mentioned that while the colour scheme was fitting for the fun vibe of the app, it can be a little hard to read in certain areas, so that's an area of improvement that we'll be focusing on.
Map View
We received a lot of positive feedback on the map view, so we want to prioritize expanding that area of the app in our next iteration.
Friend System
Our testers told us they'd love to share this app with their friends, and we think implementing a friend system and groups can make Frooglie even more fun to use, and will encourage our users to continue doing their part to reduce food waste.
The importance of testing
User testing is key and allowed us to gain perspective we didn't have before.
We received so much great feedback from our testers, and we were able see which features truly excited them, so we could explore how to improve those features in the next iteration.
It also helped to question why testers aren't gravitating toward certain features we thought were great, and consider how we could redesign them to be more useful for the target audience.
Quality over quantity
In the ideation phase of this project, we had so many ideas and we really wanted to implement them all.
We learned to focus in on one feature first and expand outward, to ensure that every aspect of the solution is fully designed with the user in mind.
It's better to have less features, that are each thoughtfully created and tailored for the target audience, than to have a ton of cool features that may not help solve the initial problem we were focused on.